Interested in becoming a usability tester? Here are 10 user testing websites you should consider joining.
The user testing industry has been booming in recent years, with nearly all major companies hiring usability researchers to help them improve their products, apps, and websites. This means that there are more opportunities than ever for people who want to earn some extra money by doing website usability tests.
Not only is this industry a great way for beginners to make some extra money in their free time, but it can also add a skill or two to your arsenal. You never know – maybe you will need to put together a website or an app for your own company in the near future! And, with professional testing experiences in your bag, you will know what common mistakes to avoid.
So, there are several reasons to become a paid remote user tester – but, which websites offer the best, most profitable experience for someone just starting out?
We've compiled our top ten list of best user testing websites for 2021 so that you can choose one or several that work well with your schedule, interests, and capabilities.
Please continue reading here if you want more information about how we chose these sites along with some other things you should know before getting started.
UserTesting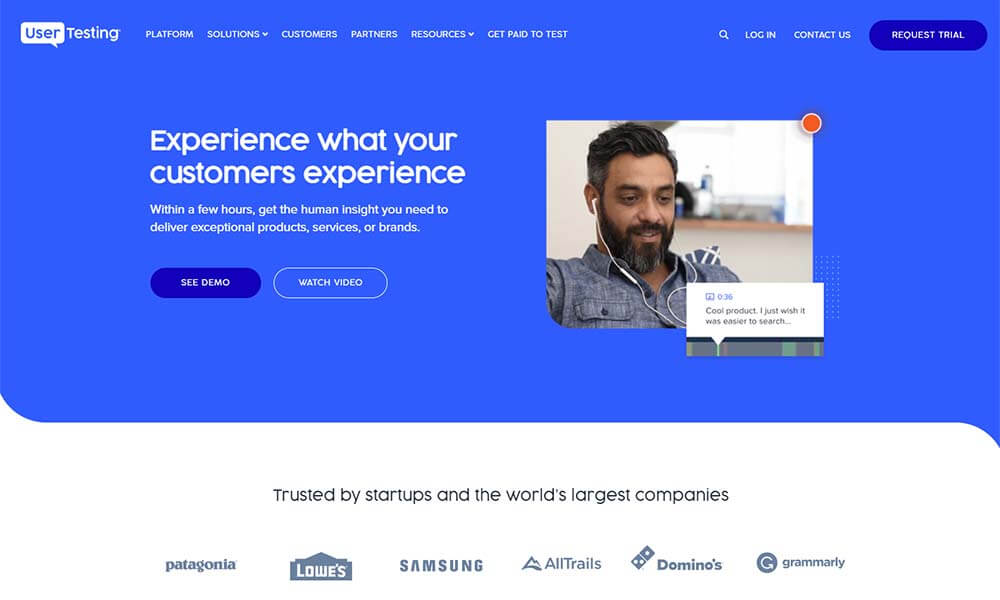 UserTesting has been the golden standard of user testing for close to a decade. The platform has been in operation since 2007 and numerous high-profile companies rely on them for usability testing services, such as AutoTrader and Udemy.
UserTesting has one of the largest selections of corporate clients, which also means that they require a similarly large pool of paid website testers.
To sign up to become a paid website tester on UserTesting, you'll have to enter your e-mail on the sign up page and complete a practice test. The practice test does not pay any money and it serves the purpose of vetting applicants before giving them a real website testing job. But, after completing the practice test, you'll start getting paid the standard rate to test websites for UserTesting.
The standard rate on UserTesting is $10 per 20-minute test, and the rate goes up for interviews. Anytime you complete a website or app test, you'll receive payment for it exactly 7 days after completion on your PayPal account. Over 3,000,000 million user tests have been completed on UserTesting as of 2021, and it continues to be one of the most trustworthy sites for getting paid to test websites in 2021.
UserZoom (IntelliZoom)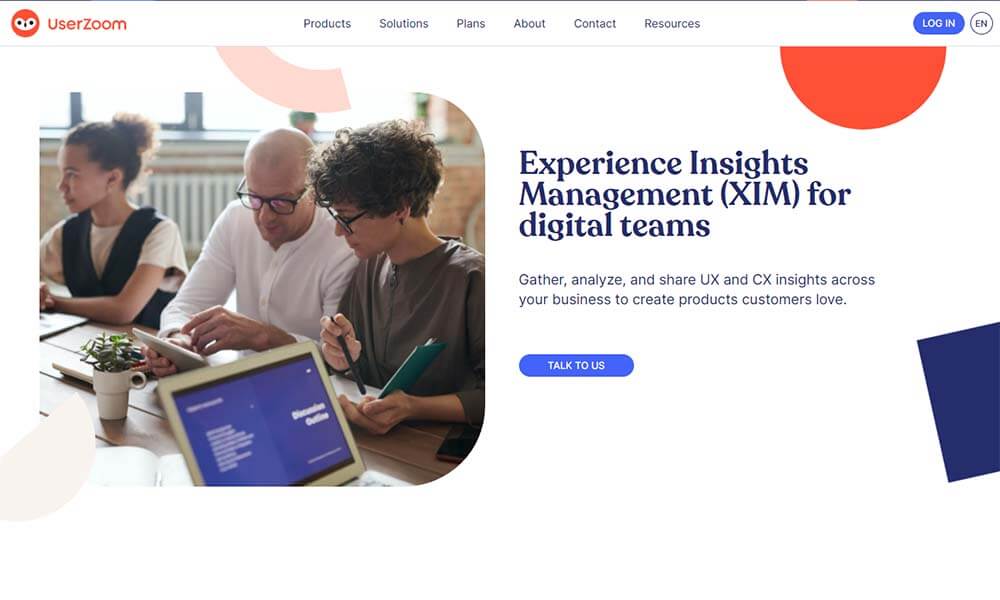 UserZoom, established in 2002, is one of the oldest user testing platforms still in operation today. Through the years, they've worked with various high-profile clients such as Ryanair – one of the world's largest airlines. As one of the "big fishes" of the usability testing industry, they can certainly be trusted.
However, how are they from the standpoint of the user tester?
First off, IntelliZoom, UserZoom's user test participant recruiting platform, is where you should start if you'd like to become one of their testers. To start getting test requests, you'll have to sign up here and enter some basic information about yourself to go through an eligibility screening. After that, you're all set to start getting paid to test websites.
As usual, payments for test participants are processed through PayPal. But, in the case of UserZoom, they are sent out within 21 business days after completing a test. Compared to UserTesting, that's three times slower. But, on the other hand, on IntelliZoom you can sometimes make $10 for short tests taking only around 10 minutes. This would bump the price per hour up to $60 if you're lucky.
But, you would have to be incredibly lucky to achieve that type of rate long-term.
That is because UserZoom boasts a whopping 120 million worldwide test participants on their website. And, if that number's true – finding frequent website evaluation work on the platform becomes difficult. After all – there are only so many clients to go around. Still, IntelliZoom is one of the best website tester job companies out there, and you should definitely consider signing up if you're interested in getting paid to test websites.
TryMyUI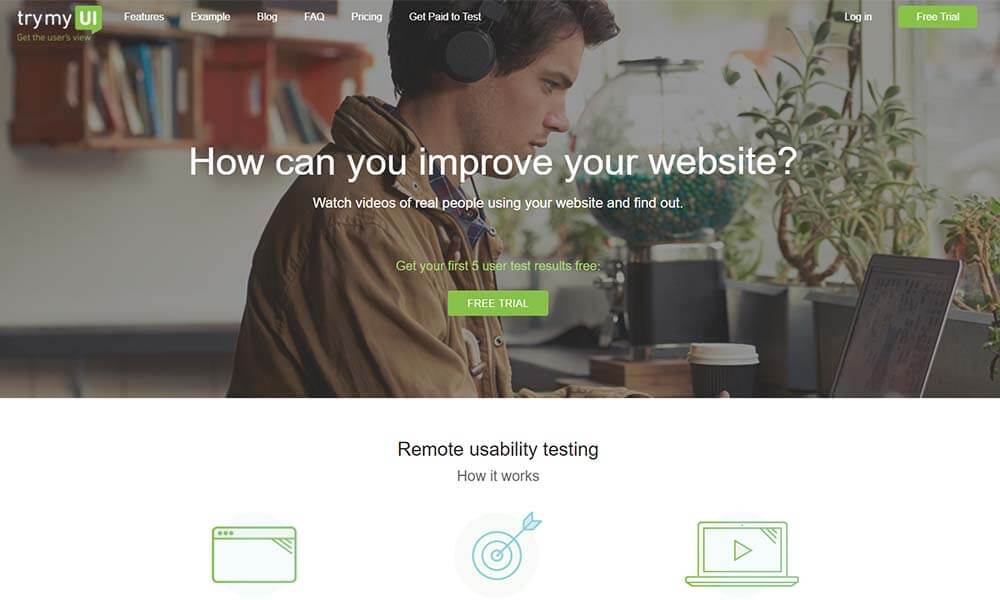 TryMyUI, in operation since 2010, is another veteran of the user testing market. While they don't appear to have as many high-profile clients listed on their site as UserTesting, they are still one of the largest players in the industry.
Similar to UserTesting, TryMyUI pays website testers to perform tests on websites and apps, and their standard rate is $10 per test, with an average test-taking just about 20 minutes. Once again, this takes the hourly rate to just about $30.
New users of TryMyUI have reported receiving an average of 1-2 tests/per week in the beginning. So, do not go in expecting $30/per hour instantly.
It is a reasonable goal (and you could potentially earn even more in the future), but it takes patience and commitment to reach this level of earning.
Payments are sent out every Friday, and all payments are processed through PayPal. To sign up to become a TryMyUI website tester, visit their sign up page, and enter your details.
Userlytics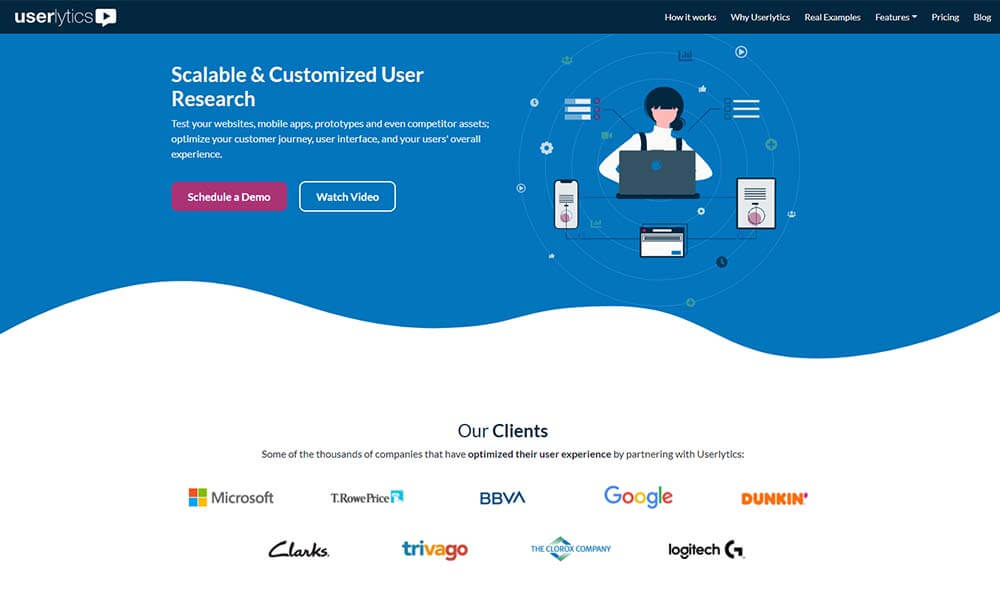 Userlytics, a usability testing platform in operation since 2009, is another good option for people wishing to rate websites for money. The company was founded in San Francisco but has since then expanded to Asia and Europe as well.
Userlytics has various high-profile clients under their belt such as Microsoft, Verizon, and Google, meaning that their service is generally trusted and appreciated by corporations.
As a paid website tester, I was immediately surprised by one of the requirements Userlytics has for their partners – they INSIST on you using a built-in microphone of your device. For someone worried about whether their hardware is up to scratch, this should be great news.
The average rate paid by Userlytics is $10-$20 for a 20-minute test. While Userlytics advertises itself as offering tests that can pay up to $90 for a completed test, it is highly unlikely that someone can immediately get access to tests that pay that much.
I did, however, manage to find new testers that have earned $50/per hour by completing 3 tests – a very impressive rate for a new usability testing website.
The payments are processed via PayPal every 15 days AFTER the client of Userlytics has approved your test. If you are interested in becoming a paid user tester at Userlytics, feel free to partner up with Userlytics at their sign up page.
UserFeel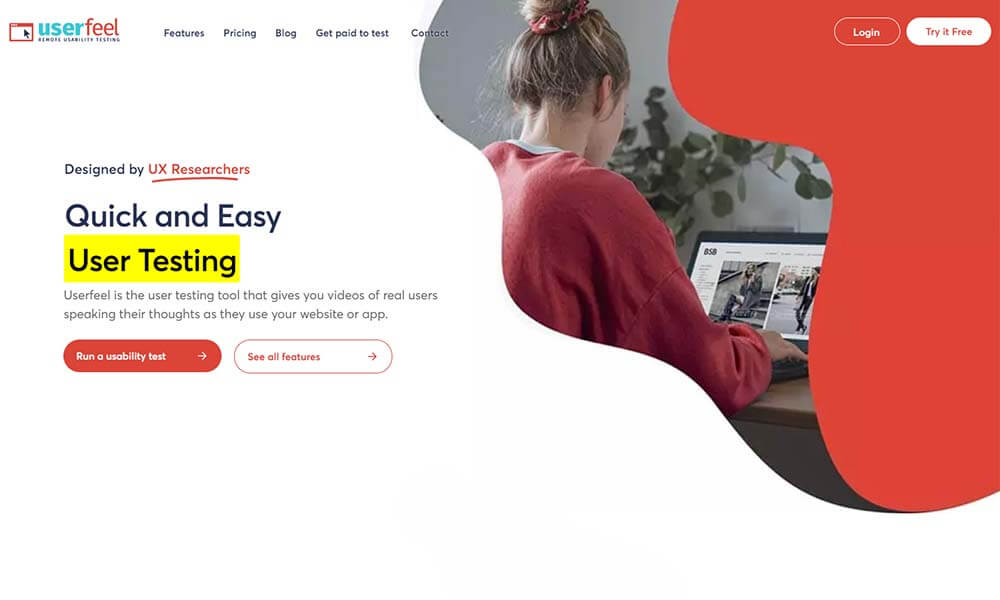 Established in 2010, UserFeel was the brainchild of Yannis Karampelas. Karampelas is a professional web developer who had trouble finding ways to perform remote usability tests for his Greek clients.
Inspired by this problem, he created UserFeel, a bilingual and international remote usability testing platform focused on websites and apps.
In 2021, UserFeel has grown to become one of the most well-known usability testing platforms in the world. The company currently collaborates with over 130,000 qualified testers and more than 200 long-term clients. The most well-known of their business clients are the likes of Tripadvisor, Target, and Four Seasons.
To become a paid user tester at UserFeel, you will be acquired to sign up and also complete a quick practice test. After submitting your practice test, you will have to wait for the approval. This process will take 7-14 working days. After being approved, you will be immediately eligible for receiving paid tests.
UserFeel currently offers their remote testers a flat rate of $10/per 10-20 minute test. While the rate might seem low, some senior users of UserFeel have reported getting up to 5 tests per day. This would take the hourly rate to about 50$, which is more than competitive for a remote website usability tester.
All things considered, UserFeel continues to be one of the best usability testing websites in 2021.
Loop11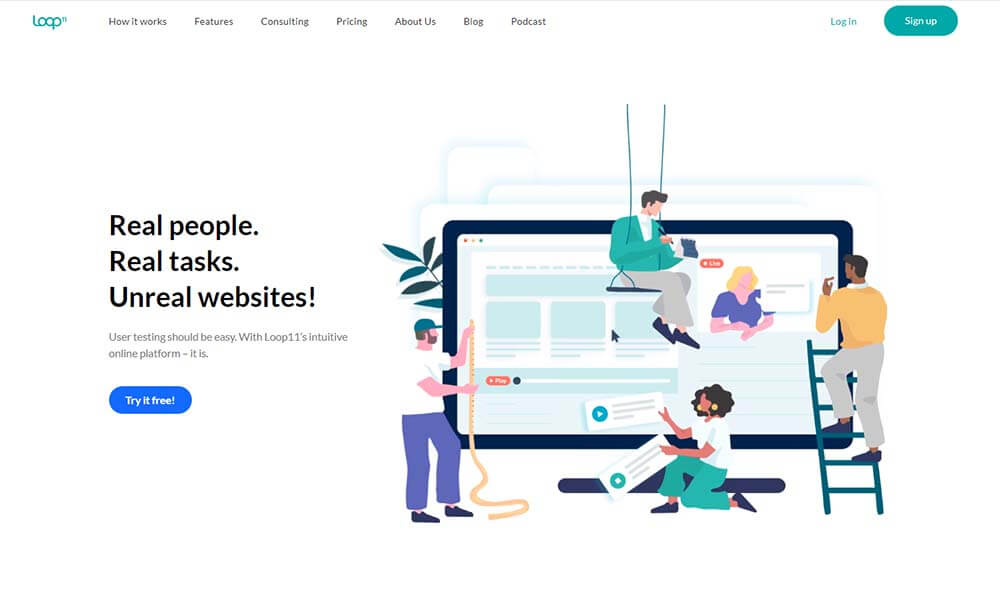 Loop11 is yet another veteran UX testing tool. It was established in 2009 by Toby Biddle, an Australian-born UX specialist with decades of experience in the field. The current version of Loop11 was made as a direct answer to a problem that Biddle's UX consulting firm was wrestling with – limitations with finding the freedom to conduct tests as often as the clients and employees needed.
Loop11 quickly made a name for itself by working with the likes of IBM, Motorola, and Vodafone.
Because of their above-average rates and frequency of tests, Loop11 has also become one of the go-to options for paid remote usability testers. Upon signing up, testers will have to submit a 5-minute qualification test.
Upon qualification, participants are asked for some further information so Loop11 can choose the tests most suited to a certain person. Loop11 goes for consistency and long-term partnerships, which is by far the biggest strength of this platform. If you manage to prove yourself via quality feedback, you can expect a consistent stream of tests. And, as extra motivation, Loop11 has also developed a bonus system for proven testers, something very rarely seen in user testing sites.
To submit your application, head over to this sign up page. After submitting the application, you can also immediately take the qualification test of Loop11.
UserPeek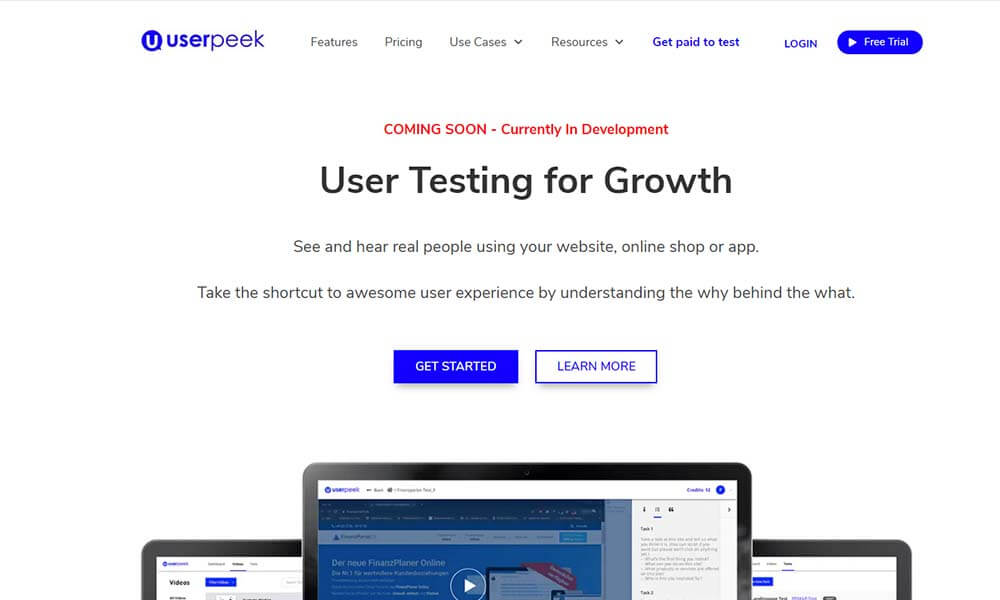 Founded in 2019 by Torsten Tromm and Tina Barenjee, UserPeek is one of the newest user testing websites on this list.
As of July 2021, they are not yet paying their remote usability testers. But, the pre-registration is already open. And, for someone interested in becoming a remote user tester for the long term, going through the process of pre-registration would be a very worthy investment of time.
Why? Well, the veterans like TryMyUI and UserTesting already have massive amounts of testers in their ranks, and the competition can get heavy at times.
As you may already know, remote user website testing generally works on a "first come, first served" basis. Thus, becoming a pre-registered tester at UserPeek has one key benefit – the competition among testers will be low. One can expect an above-average amount of tests immediately after the service goes live.
UserPeek has already announced a base rate of $10/per 15-20 minute website usability test. Just about the average rate the best user testing websites offer to their new partners.
But, once again I want to emphasize that UserPeek is a new platform. It is already announced that the rates will be higher for certified testers and testers participating in test formats yet to be announced. So, if you are planning on becoming a paid usability tester anyway, why not be ahead of the pack and pre-register as a UserPeek tester.
Keep an eye out for UserPeek. I suspect that this is a user testing website we will soon be hearing a lot about.
uTest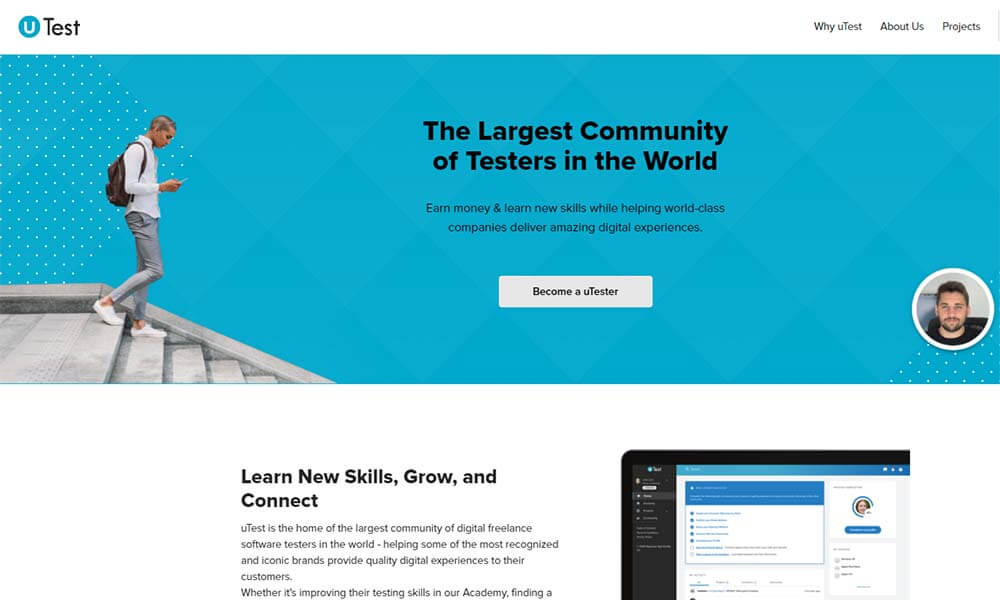 In operation since 2007, uTest is one of the world's largest communities of digital freelance software testers. For a usability tester, uTest offers a myriad of options for freelance work – for example, uTest works with industries as varied as gambling, AI, and the car industry.
And, the testers benefit from this as well – the work is much more varied than you will find in other usability testing
sites.
It must be said, however, that uTest is not for everyone. If you are looking for a site that will provide a consistent stream of guaranteed pay, uTest is not an ideal choice for you. You see, most of the tests offered by uTest are focused on finding and reporting bugs in various software.
And, the more bugs you find, the more you are paid. Some testers feel an extra surge of motivation from such laserfocused
tasks, while some testers feel unmotivated by not having their rates set in stone.
uTest supports Payoneer and PayPal as payment options. And, the payments are processed twice each month (during the 15th and the last day of the month)
If you have no prior experience with software testing, do not worry – uTest offers a free educational platform dedicated to its members. This platform is called uTest Academy and offers expert-led training on almost everything related to software testing. Including bug reporting for complete beginners.
All things considered, it is a unique platform with plenty of devoted testers. My suggestion? Try out the uTest Academy and see whether this kind of work appeals to you before you devote yourself to the platform.
Userbrain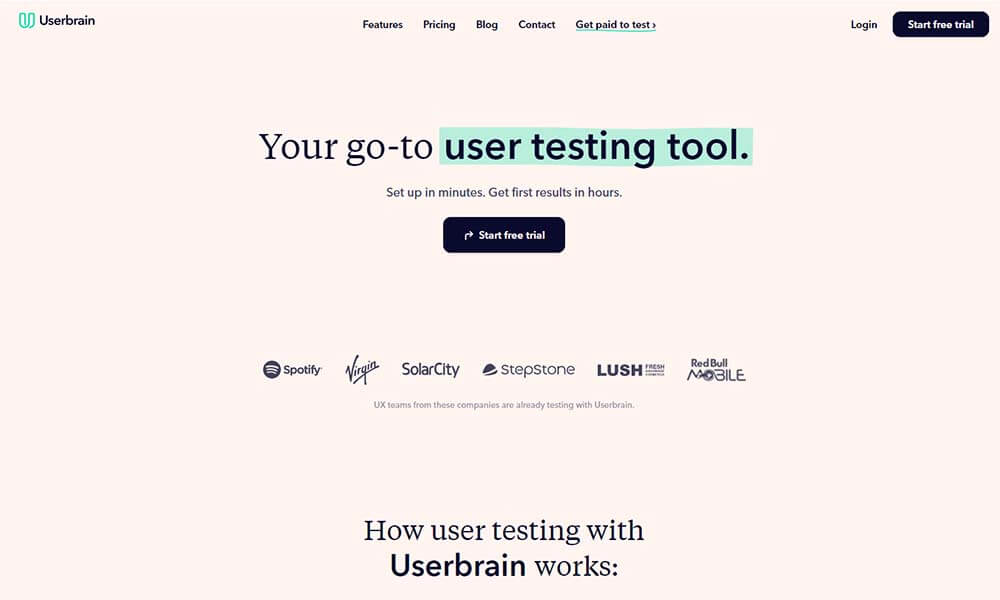 Userbrain is an Austrian-based website usability testing company founded in 2014. By now, Userbrain has become the go-to partner for well-known companies such as Spotify, Virgin, and SolarCity. With a client list like this, it is no doubt that this is a legitimate site that can offer an additional income for freelance website testers.
Initially, the earning possibilities might seem low compared to the best usability testing websites – Userbrain offers a flat rate of $5/per 15-20-minute test. But, upon further examination, the Userbrain tester experience has a lot going for it.
For one, you will avoid the time sink of the pre-screening. Many usability testing websites acquire the tester to complete a survey before taking an individual website test. This is never the case for Userbrain. Per test, you will be sparing at least five minutes of your precious time.
Userbrain also has a very low amount of disqualified tests. If your technical equipment is up to par (Userbrain has a mandatory sample test), you will probably get paid for all the tests you complete.
The payments are processed via PayPal whenever a tester chooses to withdraw his earnings. All the payouts are handled within 5-10 business days.
Userbrain, with its beginner-friendly tests and low disqualification rates, is still one of our top choices for someone
looking for their first-ever gig as a usability tester.
TestingTime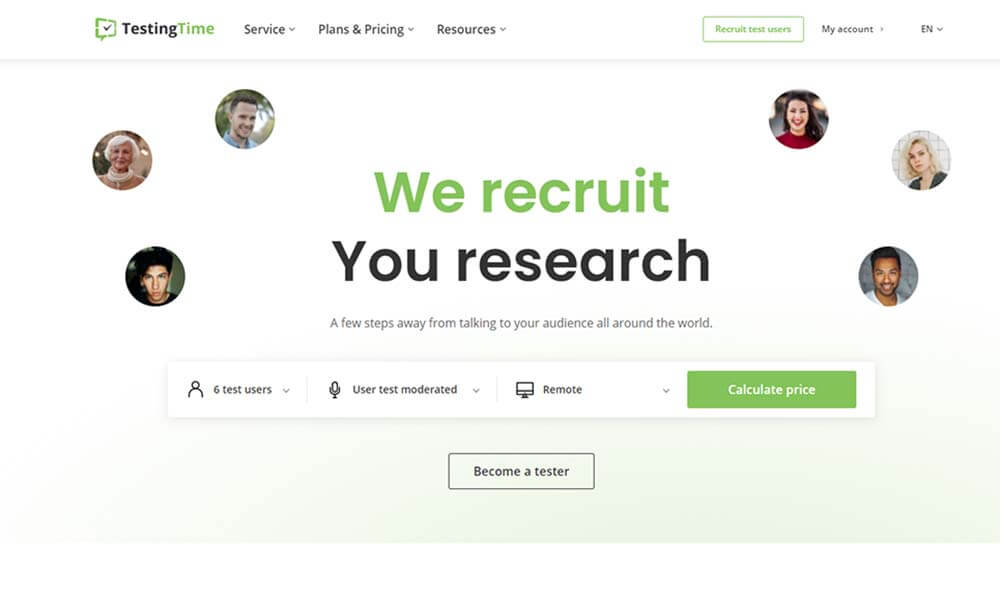 TestingTime is the usability testing website we will be looking at next. Founded in 2015, TestingTime has worked with the likes of Heineken, Logitech, and Wikimedia Foundation.
The remote user tester experience of TestingTime is well worth looking into, as the rates are above average. One can expect to receive up to €50 from a single website or app testing session.
As you would expect, the higher rates also come with some more strings attached. Allow me to explain in detail – the usability tests conducted by TestingTime put the clients of TestingTime and the testers into direct contact.
You will submit your profile, wait for an invitation to a test, and set up a specific date and time for meeting with the client of UserTesting.
Since there is a specific time and date set up for the test, do not miss the test, ever.
Since TestingTime takes its client relations extremely seriously, they will not tolerate unreliable testers. Missing a test will likely be detrimental to your future as a tester in TestingTime. TestingTime is not for everyone. But, for a reliable, dedicated, and punctual tester, it is one of the best ways of making money from user testing.
How did we choose the best usability testing websites?
We chose the best website usability testing sites by following 3 key criteria: reliability, profitability, and accessibility.
Reliability – We only included sites that have a great track record of processing all their payments on time. As a user tester, you do not want to waste your precious time on sites that will not pay you on time/at all.
Profitability – Most user testing websites offer fairly similar rates (approximately $10/per 10-20 minute test), which makes it hard for beginners to know which site offer the most monetary value for time spent. Thus, to help our readers, we had to dig deeper – we also considered variables like how quickly a beginner can get access to tests, how often tests are offered, and whether there are opportunities to earn more in the future.
Accessibility – We are focused on sites that look for testers with no prior experience. This is why we excluded website usability testing sites that acquire any prior knowledge of software/website/app testing.
FAQs
What do you need to become a paid usability tester?
Not much – with some sites, all you need is an internet connection, a computer, a mouse, and a keyboard. However, the best (most profitable) usability testing websites will also want their testers to have a webcam and a microphone.
Additionally, you might need to download an official software or app of the usability testing website. For a more in-depth guide on getting started, feel free to read our article on how to become a paid usability tester in 7
steps.
Is becoming a paid remote website usability tester worth it?
Becoming a paid website usability tester is a great way of earning a little extra income in your spare time. It is a side gig that has virtually no prerequisites, yet can offer a reliable stream of extra cash. However, it must be noted that website usability testing is NOT something that is usually considered a full-time job. It works better as a "side hustle" to get some extra income on the side.